If you have the expertise to promote brands through digital marketing, Washington, D.C.'s top businesses are looking for you. Let TorchLight connect you to clients with current job openings
TorchLight, a leading marketing and communications search and staffing firm, connects our clients with highly qualified job seekers, including those hoping to fill open digital marketing jobs in the DMV metro area. Whether you're looking for a full-time, part-time, freelance or contract digital marketing job in DC and surrounding region, TorchLight can help.
Our recruiters are known for successfully matching clients and job candidates by employing a unique search process and considering the needs and interests of both parties and the company culture. This process has resulted in a 97% success placement rate. But, don't take our word for it. Here is what one satisfied job seeker had to say: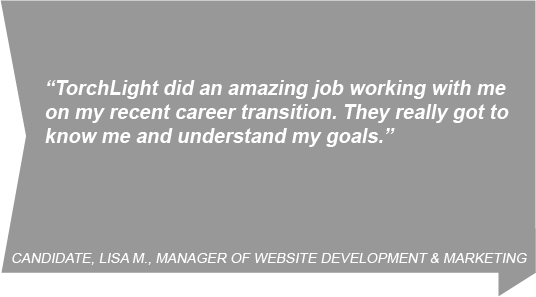 To be considered for digital marketing jobs in Maryland, Washington, D.C., or Northern Virginia, join our network. Upload your resume to our database and when a position matches your skills and expertise, a TorchLight recruiter will contact you. Until then, check out our jobs board to see current openings.
If you're a hiring manager, trying to fill digital marketing jobs in D.C., let TorchLight connect you to the best of the best. We also help recruit professionals for a variety of other positions, including: social media, marketing, communications and PR jobs. Contact TorchLight today to learn more. &