TorchLight, one of D.C.'s best marketing and communications search and staffing firms, helps our clients find high quality pros for short-term or temporary marketing work
As a digital marketing contractor in D.C., you have the pulse on what the top companies are doing to promote their products or brands through electronic media. Your expertise could be valuable to businesses in Washington, Maryland and Northern Virginia—and we can connect you to these leading companies.
At TorchLight, our recruiters dedicate their days to helping our clients—DC's top companies–find and hire talented individuals for full-time, part-time and contract or short-term marketing and communications positions. We work closely with candidates and companies to ensure the match fits the needs and desires of both parties. TorchLight has earned a reputation for successfully connecting job seekers and hiring managers. This is what one candidate had to say about working with TorchLight: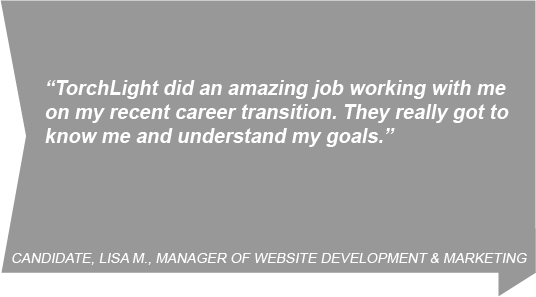 We specialize in placing mid- to senior-level marketing and communications professionals in permanent, contract and contract-for-hire positions. If you are looking for your next opportunity, contact us today.
Hiring managers – Let TorchLight help you find D.C contractor to get your digital marketing campaign on track. Contractors are especially helpful because they can step in at a moment's notice and deliver results without adding to your headcount. Contact TorchLight to learn more about how we can connect you to these experts. &